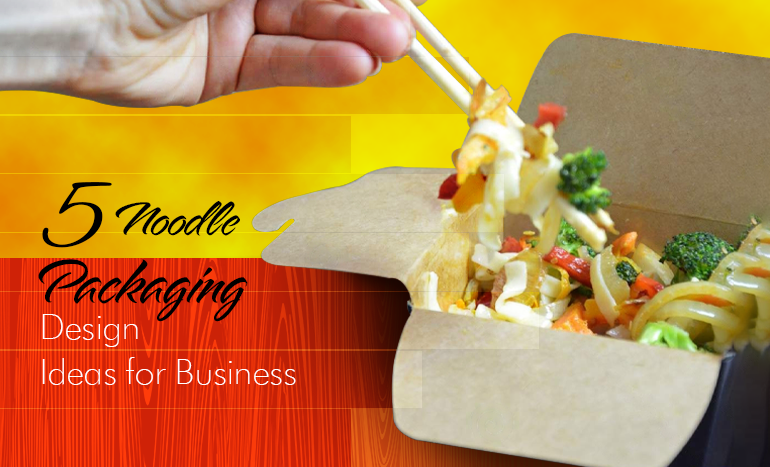 Comments Off

on 5 Noodle Packaging Design Ideas for Business
5 Noodle Packaging Design Ideas for Business
Noodles are the most loved edible worldwide because of the incredible taste and ease of cooking. Like all other food products, noodles also require biodegradable and efficient packaging. Noodle Boxes are essential to keep the products safe and fresh before consumption. Also, they make noodles more presentable.
There are various noodle packaging types and designs available to accommodate these edibles in a safe and stylish manner. Investing in a good noodle packaging design is essential to enhance your brand's image in the market. Besides, it helps to attract customers easily and quickly. Along with a creative design, noodle boxes must be biodegradable.
Why is Well-designed Noodle Packaging is Important?
Customers judge a product by its packaging quality and design. Despite this fact, rends need to choose the best Food Packaging designs. When it comes to noodles, the packaging designs vary according to the noodles type. Not only the design but the quality and features of noodle packaging also vary. There are many unique and creative noodle packaging ideas available in the market from which you can choose the best suits your needs.
The main purpose of custom noodle packaging boxes is to keep the inside items fresh and safe. Moreover, they enhance your brand's image and quickly engage customers. This will make a huge difference in terms of sales while giving your brand a competitive edge. You can encounter the following benefits biodegradable and well-designed noodle packaging boxes!
Noodle boxes with logo boost your brand's image and outreach
You can attract and engage more customers
Helpful to increase your business sales and revenues
Give your brand a standout position among competitors
Make the food more presentable
Preserve the freshness, quality, and taste of the noodles
Best Noodle Packaging Ideas 2023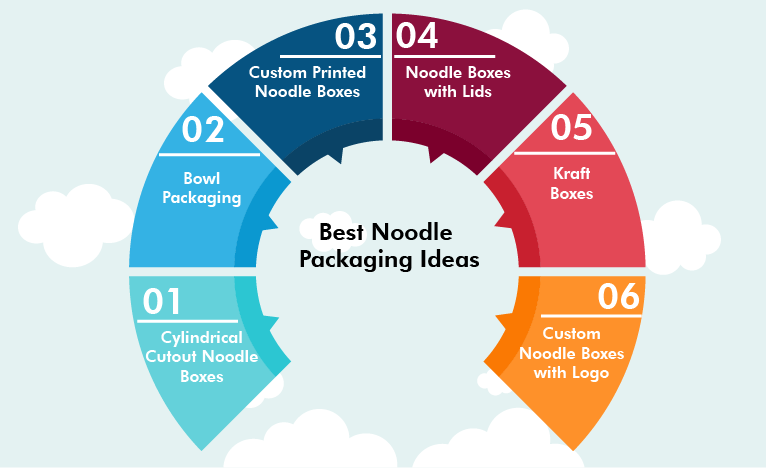 If you are looking for the best packaging ideas for noodles, you are at the right place. Packaging is about connecting a brand with its audience while improving its position in the competitive market. How can you differentiate your products from the rest when so many restaurants and noodle brands use the same packaging trends?
Well, the answer is unique noodle packaging designs. Creatively designed noodle boxes make a real difference in impressing customers. You can get cardboard boxes, Kraft packaging boxes, corrugated boxes, and another eco-friendly packaging in the following designs for noodles!
Cylindrical Cutout Noodle Boxes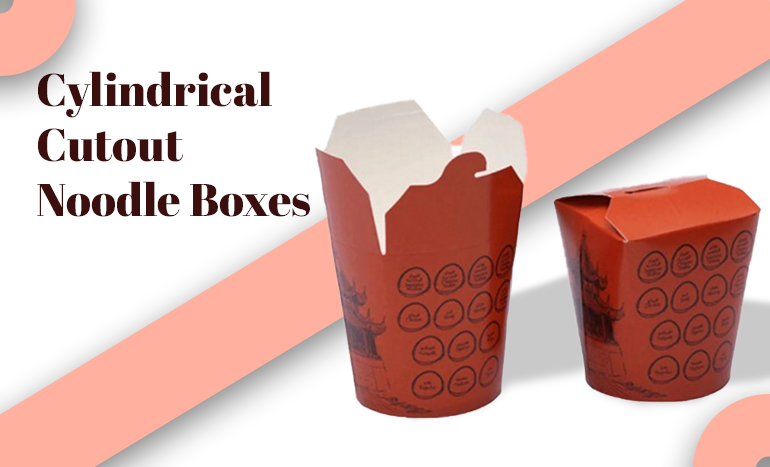 Cylindrical cutout boxes for noodles are sturdy, durable, and innovative. Using the latest die-cutting techniques, cardboard boxes or Kraft boxes are transformed into cylindrical shapes. Because of their durable structure and strength, they keep the inside products in perfect condition. Moreover, they offer great feasibility and attractive appearance.
Bowl Packaging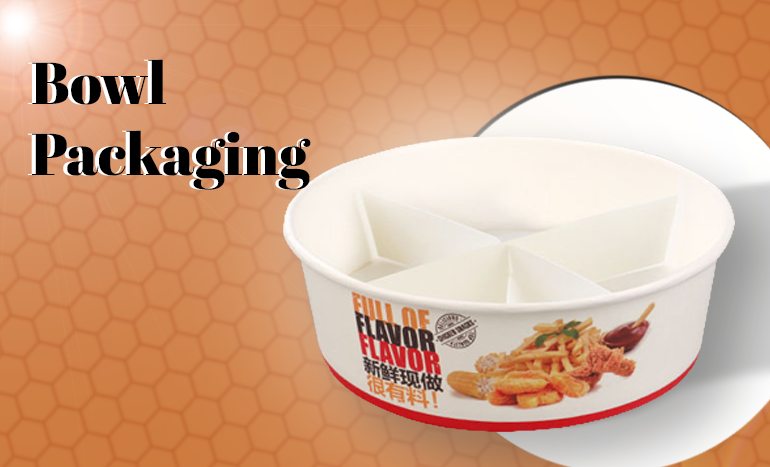 This is the most popular design when it comes to the best packaging ideas for noodles. As the name suggests, they are similar to bowl in shape that offers great usability and durability. These boxes make the consumption and presentation of noodles efficient. You can get them in many sizes as per your needs. Also, they can be printed and designed in many ways using the latest tools and equipment.
Kraft Boxes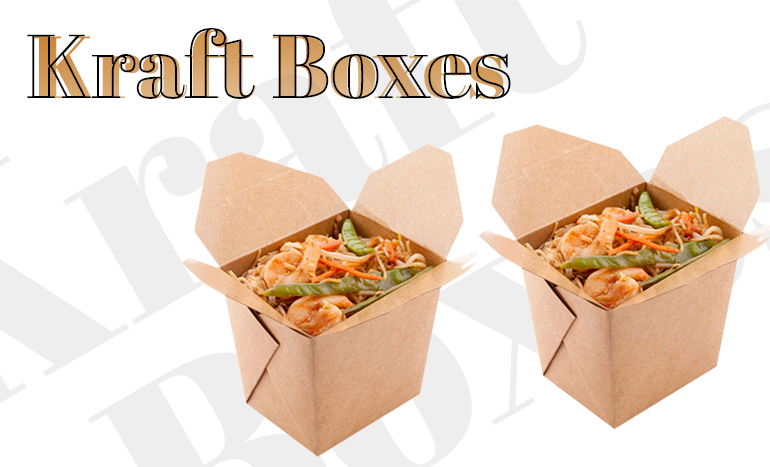 Kraft Boxes are one of the best packaging types for noodles as they are eco-friendly, durable, and 100% customizable. You can get them designed in many shapes, styles, and layouts. Moreover, the printing options are endless. These boxes can be printed, embossed, and debossed. Many die-cutting and window options are also available to add more to their appeal.
Custom Printed Noodle Boxes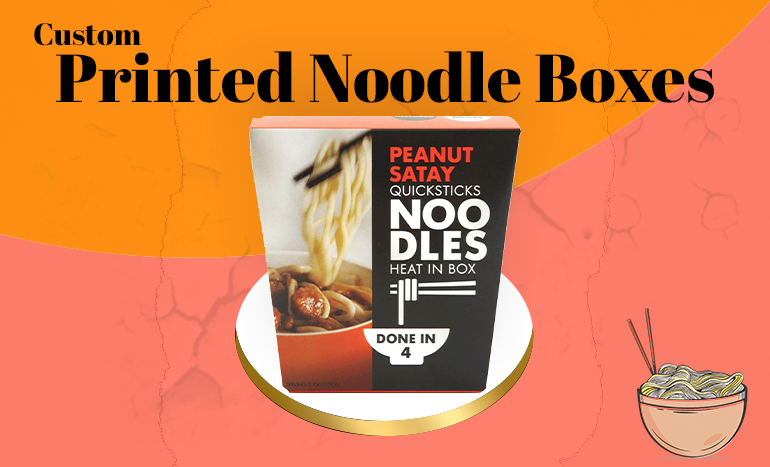 You can get noodle boxes in fascinating prints, themes, graphics, patterns, and artwork. Instead of simple and plain boxes, printed food boxes casts an everlasting impression on customers. For printing purposes, there are many latest techniques, including screen printing, digital printing, offset printing, lithography, flexography, CMYK, and PMS. All these methods allow printing boxes in amazing designs and colors.
Custom Noodle Boxes with Logo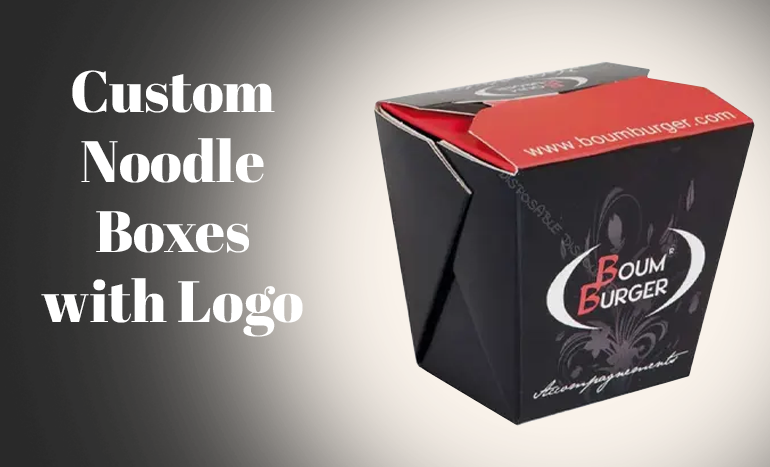 For branding and marketing purposes, noodle packaging with logo and other brand details is the best. You can get the logo printed, embossed, and debossed to enhance your packaging appeal. Other important details about your company or product can also be added in an engaging manner to appeal to customers at first glance.
Noodle Boxes with Lids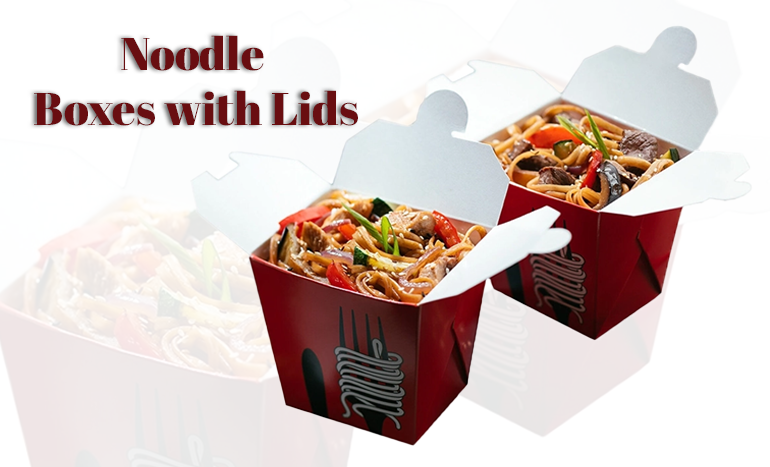 For noodles takeaway and extra safety, you can get noodle packaging with lids. The lids help to keep the noodles fresh and hot while preventing external damage. However, these boxes come in many styles and sizes. They are ideal for safe delivery and takeaway of noodles without any risk.
Which Material is best for Noodle Packaging Boxes?
After getting to know the best and latest noodle packaging design ideas, you should also be familiar with the material type suitable for noodle boxes. The packaging material must be sustainable, eco-friendly, and high-quality. The following materials are recommended for making various noodle packaging designs!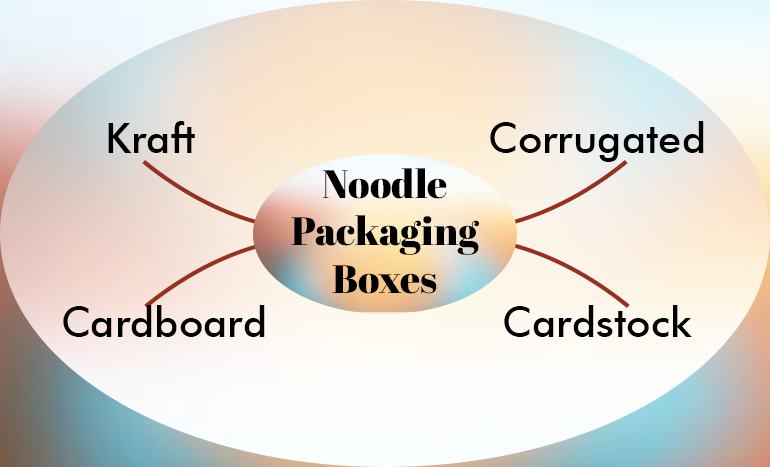 Kraft
Cardboard
Corrugated
Cardstock
Make your Custom Noodle Packaging with Claws Custom Boxes
You can choose from the above ideas for noodle packaging or create your design. Claws Custom Boxes is a leading packaging company in Australia offering the best food boxes premium styles. However, we offer complete designing and customization opportunities to our customers. Our team is highly experienced and skilled in making custom printed noodle boxes in your preferred styles.
You have many options for packaging material, printing, add-ons, die-cutting, etc. Our designs are fully tailored according to your specific needs and concerns. Moreover, we offer free design support to our customers. Whatever noodle packaging design is in your mind, tell us. We will transform all your ideas into a reality.